PRESS RELEASE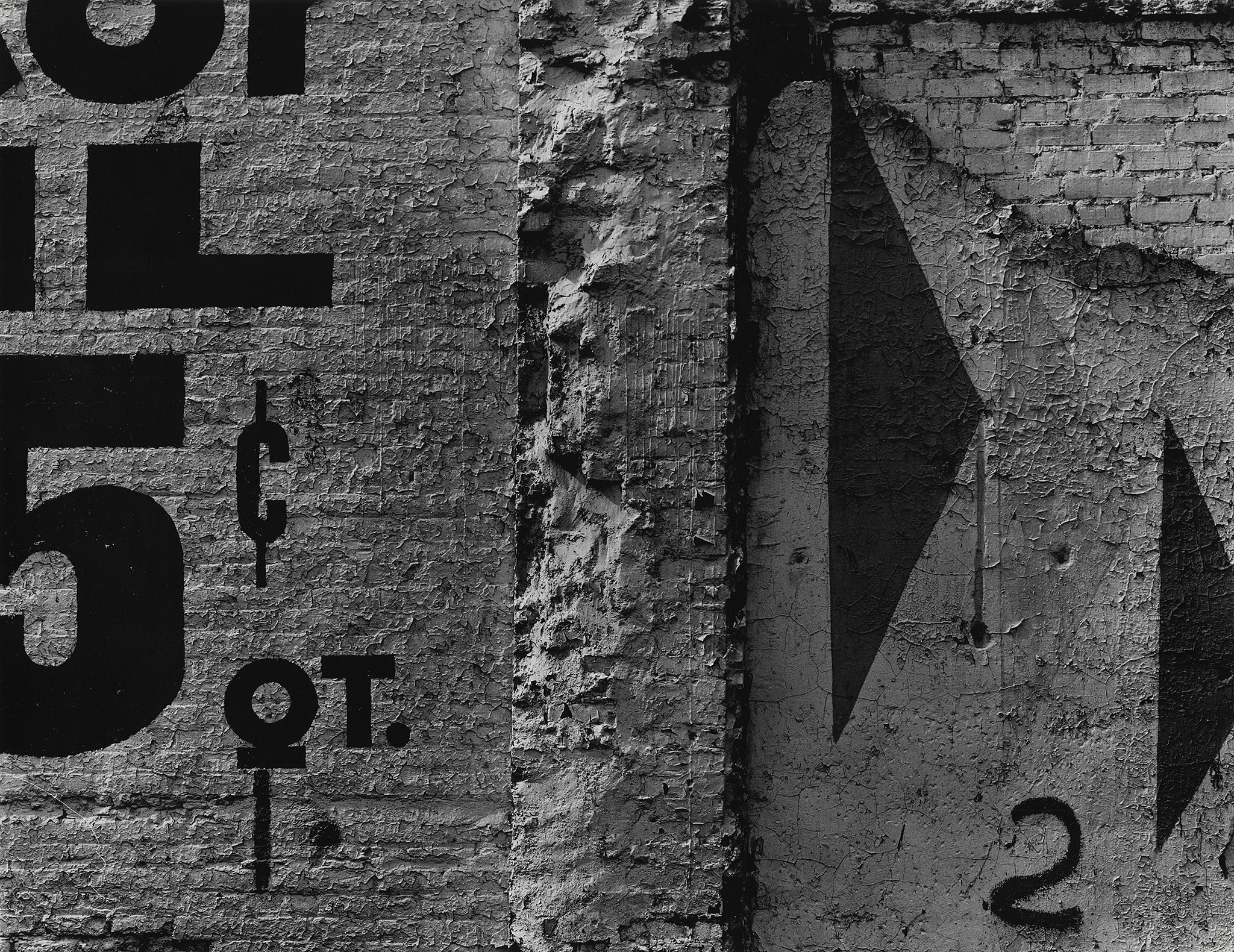 Aaron Siskind
Nov 16, 2017 – Jan 20, 2018
Gitterman Gallery is proud to present an exhibition of photographs by Aaron Siskind (1903–1991). The exhibition opens on Thursday, November 16th from 6–8 p.m. and continues through Saturday, January 20th.

The exceptional vintage prints in this exhibition are masterful examples of Aaron Siskind's interest in exploring the inherent abstraction of the real world. With these works, Siskind simultaneously captured the bold, graphic qualities of his subject and their nuances of texture and tonality. The images appear both as powerful, gestural forms from a distance, and as rich topographies with minute details and subtlety up close. As abstract as they are, his photographs still possess a sincere, humanist quality. His subjects are often fragments of marks or forms created by others, traces of human existence. As such, the images function as meditations on what we leave behind: emotional, even spiritual records of the interconnectedness of all things. Siskind's work has often been compared to that of the Abstract Expressionists, with whom he identified and even exhibited. The visual similarities between Aaron Siskind's graphic photographs and the bold, gestural marks of Abstract Expressionist paintings is striking, but there are important differences as well. As photographs of actual things (walls with peeling paint, piles of rocks, etc), Siskind's works introduce a tension between the real and the abstract that is absent from any painting.

Born on New York's Lower East Side in 1903, Siskind was interested in social reform at an early age, and explored music, literature, and poetry. His early images were powerful evocations of the human condition, many of them done under the auspices of the New York Photo League. His best known project from that era is the Harlem Document, 1932–40. Yet it was in his images of architectural details in Bucks County, Pennsylvania and his document of the demolition of the Civic Repertory Theatre in New York that Siskind started to suggest the depth of human existence within images of non-human things. By 1940 on Martha's Vinyard his visual palette expanded further to include symbolic and metaphorical imagery. During World War II Siskind produced most of his works in summers on Martha's Vinyard or Gloucester, Massachusetts. This era witnessed his shift away from photographs that aimed to describe toward images that were designed to provoke and evoke.

Siskind exhibited at the Charles Egan Gallery in New York from 1947–1953, the same gallery that showed Abstract Expressionists Willem de Kooning and Franz Klein (as well as Josef Albers, Louis Bourgeois, Georges Braque, Joseph Cornell, Philip Guston, Paul Klee, Isamu Noguchi, Robert Raushenberg and Mark Rothko.) Siskind first worked with Harry Callahan at Black Mountain College in 1950. The following year, the elder Callahan hired Siskind to teach at the Institute of Design in Chicago where he remained until 1971. He then taught at the Rhode Island School of Design until 1976, but continued to be devoted to the art of photography for the rest of his life. His work has been exhibited and collected by numerous major museums throughout the world and it is the subject of seven major monographs.