PRESS RELEASE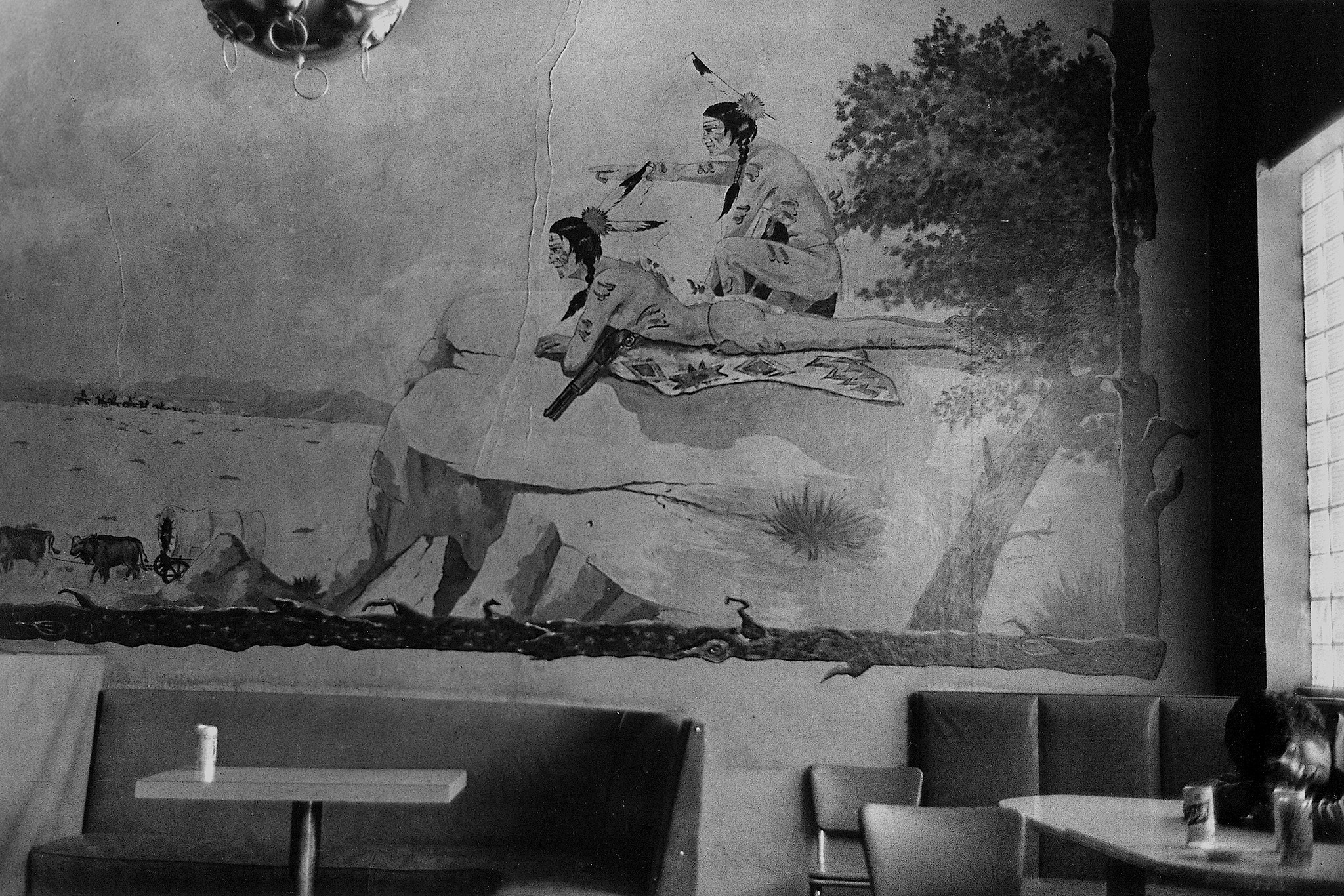 Roswell Angier
May 18 – Jul 28, 2007
Gitterman Gallery is proud to present an exhibition of vintage black and white photographs from 1978- 1982 by Roswell Angier (b.1940). The exhibition will open on Thursday, May 17th from 6 p.m. to 8 p.m.

Well known for his work in Boston's strip clubs and burlesque houses in the early 1970s, this exhibition focuses on Roswell Angier's work in the border towns surrounding the Navajo Nation in New Mexico and Arizona. Having driven through the area numerous times, remembering Robert Frank's image of an Indian bar on Highway 66 in Gallup, N.M., Angier began photographing the towns surrounding the Navajo reservation. Angier's images depict a people trying to persevere in the midst of a community gripped by increasing marginalization and debilitating alcoholism.

Roswell Angier explains the context for this work:

Moments before he died in Arizona, in a 4th of July accident, my father and I were talking about cowboys and Indians. The conversation stayed with me, not because it was particularly profound (it wasn't, but it was cautiously pointed in that direction). It stayed with me because it was the last conversation we had, and because it was left so incomplete. Years after the fact, my wife and I drove to Gallup, New Mexico. I remembered Gallup from my first cross-country road trip, Route 66 slicing through town like an incision – on one side of the road, motels, bars, pawn shops, and knots of aimless wandering drunks; on the other side, railroad tracks and (as it appeared to me then) mostly empty desert. It seemed like the edge of the universe. I wanted to go somewhere new to make photographs, and the vestige of this mental image, which was by then more than 10 years old, was seductive. I also wanted to track down the bar that Robert Frank had photographed in the '50's. So Gallup became the destination. What I found there were people who were trying to persevere in the midst of a culture that was becoming increasingly marginalized and beset with debilitating alcoholism. I made a few friends. Some, like Roger Pablo and Jackson Arthur, were Navajo men who had been diminished by their addiction to alcohol, and had come back from that experience with purposeful confidence and a sense of humor. Others, like Roscoe Anderson, were still contending with their demons. What I somehow didn't realize, until I had been there for a while, was that I was also continuing my conversation with my father.

Roswell Angier has taught photography for over 35 years; he is on the faculty of the School of the Museum of Fine Arts in Boston, and currently heads the photography program at Tufts University. Angier recently published a book entitled Train Your Gaze (AVA Books, 2007), which examines portrait photography from technical, theoretical and historical perspectives. Angier's work is included in numerous institutional collections, including: Addison Gallery of American Art, Andover, Massachusetts; Danforth Museum of Art, Framingham, Massachusetts; Fogg Museum, Harvard University, Cambridge, Massachusetts; Kresge Art Museum, Michigan State University, East Lansing, Michigan; Museum of Fine Arts, Boston, Massachusetts; National Museum of American Art, Washington, D.C.; Rose Art Museum, Brandeis University, Waltham, Massachusetts; Smithsonian Museum, Washington, D.C.; Wells Fargo Bank, Los Angeles, California.