PRESS RELEASE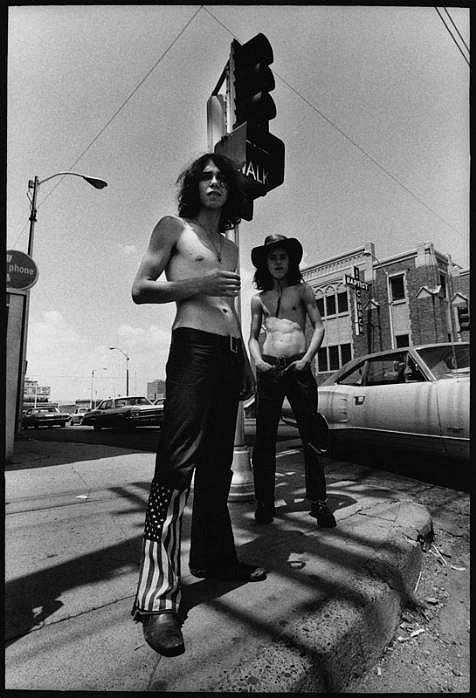 Robert D'Alessandro
Feb 27 – May 9, 2009
Gitterman Gallery is proud to present an exhibition of vintage photographs by Robert D'Alessandro. The exhibition will open with a reception on Thursday, February 26th from 6 to 8 p.m. and continue through Saturday, May 9th.

In the early 1970's the American flag was everywhere. Given the social climate at the time with the Civil Rights Movement, the assassinations of Martin Luther King, Jr., Malcolm X and the Kennedys, the Vietnam War and Watergate, people were actively questioning the ideals their country stood for. The photographs in his 1973 book Glory (Elephant Publishing Corporation, NYC), depict the ways in which people were using the American flag to make their personal feelings about America known.

Born in the Bronx in 1942, D'Alessandro grew up with a deep respect for American ideals instilled in him by his immigrant father. D'Alessandro noticed that after the Vietnam War many people seriously questioned whether their flag still stood for the ideals and values that it had always claimed to stand for. D'Alessandro's photographs were his means of examining the current issues of the time going on across the country. Issues of race, class and alienation are prevalent in these images.

Still today, at a time when we as a nation have the opportunity for substantial change, D'Alessandro's work asks what values the flag represents for us. He provokes us to consider what we want our country to be and become and to understand that America is our collective creation.

Glory was first exhibited in 1973 at the "Letters to My Congressman" exhibit in Washington, D.C. D'Alessandro's work is included in the collections of The Bibliotheque Nationale, Paris; Center for Creative Photography, Tucson; George Eastman House, Rochester; Library of Congress, Washington, D.C.; Smithsonian American Art Museum, Washington, D.C.; and the Walker Art Center, Minneapolis.