PRESS RELEASE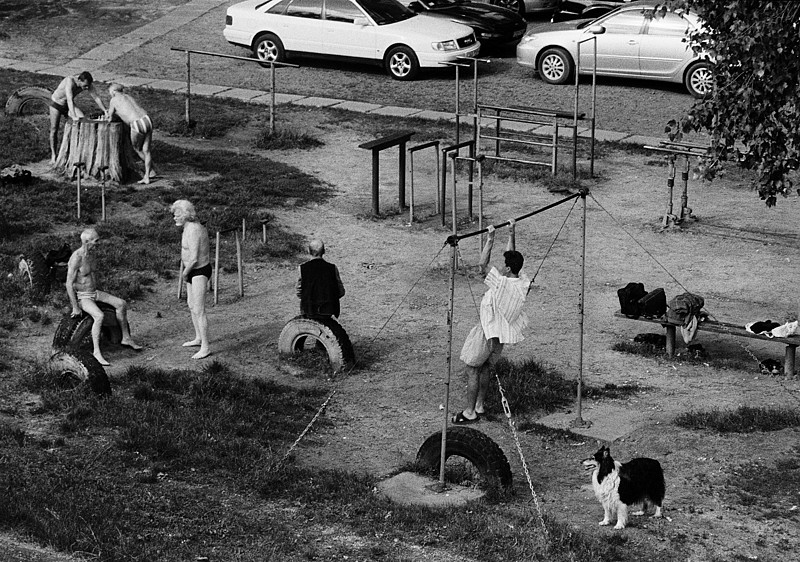 Yelena Yemchuk
May 6 – Jul 16, 2011
Gitterman Gallery is proud to present an exhibition of black and white photographs by Yelena Yemchuk. The exhibition will open with a book signing and reception for the artist on Thursday, May 5th from 6 to 8 p.m. and continue through Saturday, July 16th.

Yelena Yemchuk's photographs of Gidropark, Kiev, Ukraine were taken in the summers of 2005 through 2008. The exhibition is concurrent with the release of Gidropark (Damiani, 2011). Gidropark, which Yemchuk likens to a "Soviet version of Coney Island," was built in 1968 on the River Dnieper as a recreational complex.

Best known for her fashion and portrait photography, this series is very personal to Yemchuk, who was born in the Ukraine in 1970 and spent her summers as a child visiting this park. Her images made on the beaches, sports grounds and woodlands that populate the park capture characters and an atmosphere that is Felliniesque. There is a timeless quality about this place; it is both caught in the past, while at the same time, full of the life of today.

Yemchuk immigrated to the United States with her parents when she was eleven. She became interested in photography when her father gave her a 35 mm Minolta camera for her fourteenth birthday. Yemchuk has studied at Parsons and the Art Center in Pasadena. Her photographs have appeared in the New Yorker, Another Magazine, ID, Dazed & Confused, and Italian, British and Japanese Vogue and her paintings and photographs have been exhibited around the world. Gidropark is her first book.