PRESS RELEASE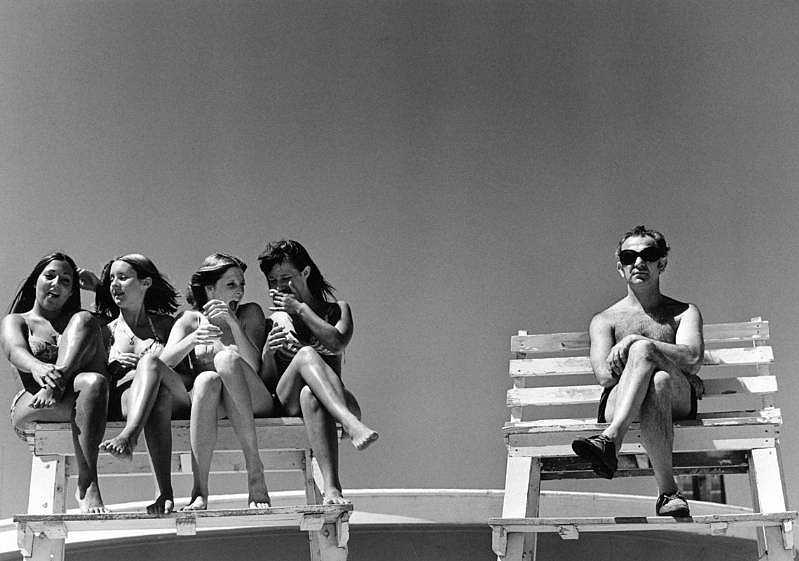 Joseph Szabo
Apr 30 – Jun 12, 2010
Gitterman Gallery is proud to present an exhibition of black and white photographs by Joseph Szabo of Jones Beach and Rolling Stones Fans. The exhibition will open with an artist's reception and book signing for Jones Beach on Thursday, April 29th from 6 to 8 p.m. and continue through Saturday, June 12th.

This exhibition focuses on Szabo's Jones Beach and Rolling Stones Fans bodies of work and is concurrent with the release of his third major monograph, Jones Beach (Abrams Image, 2010 with an introduction by Vince Aletti). Szabo's photographs of teenagers have gained a cult-like following over the years and have influenced a number of fashion photographers and filmmakers. Szabo is a master at eliciting universal feelings and moods. In each body of work, he successfully conveys in his photographs what is difficult to express in words: the particular mix of posturing and insecurity found at the beach, the excitement of seeing your favorite band play a packed stadium.

Jones Beach depicts life on Jones Beach, Long Island, New York from 1969 to the present. Szabo taught photography and art at Malverne High School in Long Island from 1972 to 1999. Szabo's own photography became a tool for him to better understand his students. Over summer breaks Szabo continued to photograph teenagers at Jones Beach, but expanded to shooting other age groups as well. Though a public space, there is something very private about the beach. Similar to high school, one's vulnerabilities and insecurities are on display at the beach. Szabo does not use his camera to judge; he uses it to connect. Much like his work from his two previous books, which reminds us what it was like to be a teenager, Jones Beach triggers our own summertime memories.

In the summer of 1978 Szabo joined two students on a road trip to Philadelphia to see the Rolling Stones play JFK Stadium. Surrounded by 90,000 fans, Szabo spent the day photographing the crowd's excitement. The energy of the vast crowd is palpable in this series, but what is most moving are the quiet moments Szabo captures of individuals and couples captivated by the music.

Joseph Szabo was born in Toledo, Ohio in 1944. He studied photography at Pratt Institute, where he received his MFA in 1968. Szabo taught for over twenty years at the International Center of Photography, New York. Szabo's 1978 book Almost Grown (Harmony Books) was remade and expanded upon in 2003 as Teenage (Greybull Press). His work has been collected by numerous institutions, including the Metropolitan Museum of Art, New York; the Museum of Modern Art, New York; Yale University, New Haven; the International Center of Photography, New York; and the Bibliothèque Nationale, Paris.